Golden SingleShot Pickleball Paddle
What our customers have to say
Loved by over 1,000 players
I switched from my current "faithful" paddle to the Golden Classic and it was like giving up my scooter for a Harley! It took me a minute to get used to this thunderous paddle, but once I did, I realized that the Golden Classic Pickleball paddle is designed for anyone wanting to power-up their game.
Dont see myself ever having to upgrade, this is it.
Love this paddle, it's lightweight and gives great spin control. I highly recommend it for any level player!
Winning all my matches with these beauties!
Customer Reviews
Write a Review
Ask a Question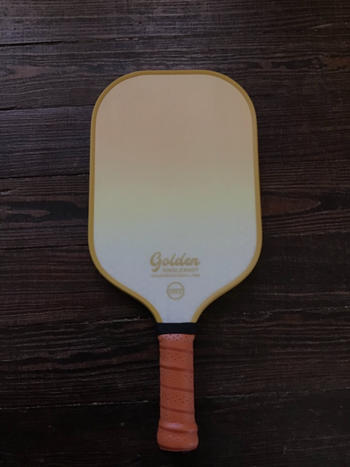 12/22/2020
I recommend this product
Color is misrepresented
I haven't used it yet, so I will report back on performance but aesthetically the ombré transition from gold to white is actually very very yellow and just doesn't look right. Sad about it :(
Lexi R.
United States
01/13/2021
I recommend this product
Amazing paddle, poor shipping time
I love everything about the paddle. It's a great light weight paddle good for hitting close to the net. Well balanced and has a good grip. My only complaint is about the shipping, which took about 3 weeks. I also know this wasn't some kind of random mistake because there are other reviews that talk about this issue.
Drew A.
United States
01/12/2021
I recommend this product
Love it!
I've used quite a few different paddles to find the right one for me and my search is over with my Golden Singleshot. I love everything about this paddle. Aesthetically it's beautiful, the grip is super comfy, and the shape gives you great reach. It also feels more dense around the border of the paddle than others that I've tried which seems to limit those unpredictable little twists that send your ball flying to a spot you certainly did not mean to put. Will definitely be sticking with Golden.
Anonymous
United States
01/12/2021
I recommend this product
Shipped and delivered quickly
This paddle is thinner than the amped from Selkirk Lots of pop but face seems to provide lots of control Good overall paddle We are big Selkirk people but this is a nice paddle
josh n.
United States
12/11/2020
I recommend this product
Fantastic Paddle!
I have been searching for a more classic looking paddle (color, leather handle, etc) and this is it! In addition to the aesthetics, the feel and performance are fantastic. It is very light and seems to deaden the ball so i can take a full swing when necessary without blasting the ball off the back of the court. Well worth the purchase.
Jonathan M.
United States